Little Guy and the Wrath of Kyurem is the third Little Guy Mystery Movie.
Koihi Yamadera voiced Kyurem in the movie which he also voiced Lugia in Pokémon: The Movie 2000, Deibitto the Butler in Pokémon 3: The Movie, Hunter in Pokémon 4Ever, Rosshi in Heroes Latias and Latios, Butler in WishMaker, Lund in Destiny Deoxys, Sir Aaron in Mystery of Mew, Jack in Temple of the Sea, Cobalion in the Sword of Justice, Red Genesect in Genesect and the Legend Awakened, and Hoopa Unbound in the upcoming Hoopa and the Clash of Ages.
Black Kyurem is voiced by Dan Green who also voiced Entei in Pokémon 3: Ths Movie while White Kyurem is voiced by Marc Thompson who voiced Kyurem in the Sword of Justice.
This will be the last Little Guy Mystery Movie to feature the TAWOG characters, due to budget cuts.
Synposis
Edit
TBA!
TBA!
Promotions
Edit
There is a Wi-Fi Mystery Gift where you can get Kyurem, which is obtainable from either Pokémon X, Y, Omega Ruby, or Alpha Sapphire. There were promo Pokémon Cards given both during the theatrical release and they will be included in home video copies, out in the Summer of 2016.
The film was promoted through Candy Blox candy, GreenyBurger, Chuck E. Cheese's, various regional restaurants, hotels, etc. etc., and a special edition of the Wii Mini with the Greeny Phatom Re-Mastered Collection pre-installed, Wi-Fi connection, and Gamecube compatibility is going to be on shelves permanently starting in the Summer of 2016.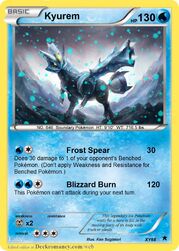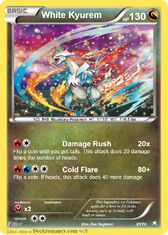 Characters
Edit
Voice cast
Edit
Koihi Yamadera as Kyurem
Dan Green as Black Kyurem
Marc Thompson as White Kyurem
Reception
Edit
Little Guy and the Wrath of Kyurem was a box office success, scoring $987,000,000 at the box office. Rotten Tomatoes gave it a "certified fresh" score of 77% based on 57 reviews with an average rating of 7 out of 10.