Samantha Shertick
Born
November 25, 1990 (age 25)
Sydney, Australia
Other names
"The Chameleon Girl"
Years active
2010-present
Notable work
Little Guy and The Mystery to New York (score)
Home town
Los Angeles, California
Family:
Brenda Messerli (wife)
Michael Wildshill (father)
Ashley J "Star" Wildshill-Shertick (mother)
Jamie Shertick (twin brother)
Signature
TBA
Samantha Shertick (born November 25, 1990) is an Australian-American musician, and the sister of Jamie Shertick. She is well known for her "odd" natural color-changing pink hair, the result of a non-fatal birth defect.
She is famous for scoring Little Guy and The Mystery to New York, and for co-creating an animated series The Updowns for The Greeny Channel Studios.
She was born with natural color-changing pink hair and a birthmark shaped like a heart on her neck.
During her childhood, she loved Ecto-Cooler, Oreos and Crystal Pepsi, and usually created recipes that use them. She also has celebrated Crystal Pepsi's return and Ecto-Cooler's return.
She also owns copies of early drafts of the scripts for Ghostbusters, Ghostbusters 2 and the infamous all-female remake of Ghostbusters.
In high school, she played violin, piano, trumpet and other orchestral instruments fluently, and so, when she graduated in mid/late-2000s, she started making orchestral music, starting with a score for Little Guy and The Mystery of New York with couple of other composers.
She has been dating Brenda Messerli since 2009, and married her in 2015, shortly after gay marriage was entirely legalized in the United States. When she and her brother Jamie were interviewed in 2016, Jamie recalled the moment when she came out as a bi in 2013, and his reaction being "confused, but mostly proud".
The Time-Travelling Cat
Edit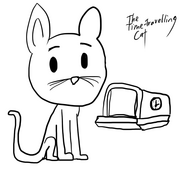 She created an interactive web comic
The Time-Travelling Cat
with many people from the
Greeny Phatom
/Frederator/Lab Zero/Telltale Games/Warner Bros/GameInsight/Cartoon Network/DreamWorks/What Pumpkin/
JSP
/
GreenyWorld Studios
/
The Greeny Channel Studios
crew and alumni including: storyboard artists Kaz,
Demi Christine "DC" Young
,
Meijer van Wouters
, and Wendy Brown, musician
Jake Wrzesiński
(Greeny Phatom),
Jamie Shertick
(JSP), and other people, like writer/comedian Dan Aykyord, with many more. The crew consisted mostly of females, but there were also around 50 males.
The series stars a male cat called Zach (which is Jamie Shertick's middle name), and his owner Brenda (named after Brenda Messerli, who is Samantha's wife, who also works as a musician for the webcomic), as they go on a huge time-travelling adventure, spanning across 8,000 pages, divided to 120 episodes, as of January 2017.
The Updowns
Edit
TBC
Greeny Phatom
Edit
TBC
Digital-EVO
Edit
Samantha was involved in Jamie Shertick Productions and Singularity Entertainment's live concert, Digital-EVO, starring the band Devo. Digital-EVO was broadcast live from the Walters State Great Smoky Mountains Expo Center in White Pine, Tennessee, United States in the China Film Giant Screen picture format with Dolby TrueHD sound and a Filmized look on pay-per-view, MTV Live, Sling TV, and to college campuses and military bases around the world. Samantha and her wife Brenda helped by supplying the band with equipment (Brenda let Josh Hager borrow her ESP LTD M‑1000SE electric guitar and white Brian May Guitars Special with Tortoise Shell scratchplate) and Brenda danced during "Peek-A-Boo"